The George Beaumont Group
Patrons Program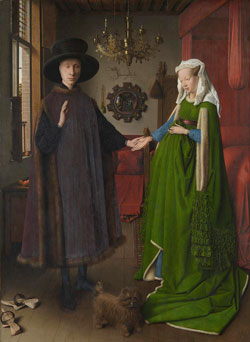 Jan van Eyck,
The Arnolfini Portrait
, 1434. © National Gallery, London.
In 1826 Sir George Beaumont helped to create the National Gallery by giving his collection of great master paintings to the nation. This was the first of many gifts by generous individuals who over the centuries have helped us to restore and extend the National Gallery's buildings, to purchase, conserve and redisplay the paintings themselves and to create an array of educational resources for the collection.
The George Beaumont Group and George Beaumont Circle
The George Beaumont Group and George Beaumont Circle are part of this legacy, and their support and donations enable the Gallery to continue to care for its outstanding collection and preserve it for this and future generations, as well as fund new acquisitions and curatorial positions, and support the Gallery's thriving exhibitions programme.
George Beaumont Patrons enjoy getting to know the national collection and each other at a range of exclusive events and private views throughout the year. These include special tours of the collection, private views of exhibitions outside the Gallery, and having the opportunity to attend overseas study trips.
To find out more, please contact Patrons Manager, Abigail Weir, by emailing george.beaumont@ng-london.org.uk or by calling +44 (0) 20 7747 5824.