The George Beaumont Group
Patrons Program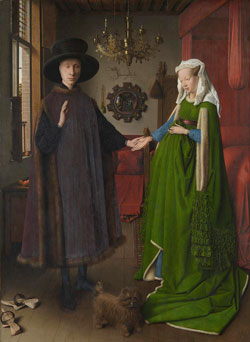 Jan van Eyck,
The Arnolfini Portrait
, 1434. © National Gallery, London.
Nearly twenty years ago, The National Gallery in London launched what has since become the most exclusive Patrons' scheme in the U.K, naming it after the philanthropist who helped create this world-renowned art collection housed in Trafalgar Square. Sir George Beaumont gave his collection of great masterpieces to the British nation in 1826, and was the first of many generous individuals through the centuries to help restore and extend the buildings; acquire, conserve and redisplay the paintings themselves; and create an array of educational resources for the National Gallery, which is open free to the public every day. The George Beaumont Group is part of this legacy.
Activities and Events
Members are invited to a number of private National Gallery events throughout the year. These include opening receptions for every temporary exhibition, two morning private views of exhibitions in other major London galleries, an exceptional black tie dinner held in the main galleries and the ever-popular Open House evening. Highlights of this social evening include short talks in the Gallery's collection, and members are welcome to invite up to four friends.
Another invitation issued solely to the Beaumont Group is to an art study trip led by the Gallery Director and key experts. Study trips focus on artworks that complement the National Gallery collection, and members gain special access to public and private collections. As well as notable capital cities, recent destinations have included Venice, St. Petersburg and Paris.
With VIP access to exhibitions prior to public opening hours, and a bi-annual newsletter specifically tailored for the group, there are numerous ways in which members can familiarize themselves with the inner workings of the National Gallery and the expertise of its staff. The George Beaumont Group comprises collectors, art historians, dealers and individuals who are passionate about the National Gallery and old master painting. They all share the enjoyment of looking at paintings of the highest caliber and membership in the group provides exclusive access to both this and other important collections in London.
How to Join
If you would like to know more about how to join this special international group of art lovers, which has limited space, please contact the National Gallery's Patrons Manager at George.Beaumont@ng-london.org.uk or call +4420 7747 5824.